Oficina de Criatividade com a Luz, realizada na Casa da Cultura Laura Alvim, Rio de Janeiro, em Maio de 2017, com 30 alunos do colégio municipal Castelnuovo. Durante as aulas, eles experimentaram o processo de formação da luz e da imagem na fotografia, passando pela construção de câmera obscura e por atividades com câmeras pinhole, onde exercitaram seu olhar sobre seu território. O resultado da oficina foi a construção de um painel com as fotos produzidas pelos alunos, representando a construção de um olhar coletivo sobre o bairro de Ipanema.
A Oficina ministrada por Pedro Kuperman, foi iniciativa do instituto-E, com apoio da Rede Globo e da UNESCO Brasil.
Workshop on Creativity with Light, held at the Casa da Cultura Laura Alvim, Rio de Janeiro, in May 2017, with 30 students from Castelnuovo municipal college. During the program, they experimented with the process of light and image formation in photography, through obscure camera construction, and through activities with pinhole cameras, where they exercised their gaze on their territory. The result of the workshop was the construction of a panel with the photos produced by the students, representing a collective gaze at the neighborhood of Ipanema. The workshop given by Pedro Kuperman was an initiative of the E-Institute, with the support of Rede Globo and UNESCO Brazil.
Câmera Obscura
Os alunos construíram juntos, uma câmera escura feita de papel, a princípio totalmente vedada de luz. Puderam observar o caminho da luz ao fazerem um pequeno furo, e a imagem que se forma invertida no seu interior - princípio da câmera fotográfica.
The students collectively built dark cameras made of paper, at first completely faded with light. They could observe the path of light by making a small hole, and the image that is inverted inside - the principle of the photographic camera.
Pinhole
Seguindo o entendimento sobre a luz alcançado com a câmera obscura, cada aluno fez seu furinho em uma pequena caixinha de plástico, colocou papel fotográfico dentro, e sairam para fotografar com suas pequenas câmeras artesanais pinhole.
Through the understanding of light achieved with the camera obscura exercise, each student made his little hole in a small plastic canister, placed photographic paper inside, and went photograph with their small handmade pinhole cameras.
Foi feita uma dinâmica de fotografia com câmeras artesanais (pinholes), seguida de vivência no laboratório de revelação fotográfica. Os alunos puderam explorar seu olhar sobre o bairro aonde vivem e estudam.
Students photographed with the pinhole cameras, then developed the images in the dark room. They explored their gaze on the neighborhood where they live and study.
Os alunos /fotógrafos (the students/photographers): Ana Clara Sant'Anna de Carvalho; Ana Luiza da Silva Rocha; Arthur da Silva Vieira; Bianca da Silva Leal; Bryam João da Silva Oliveira; Bruno Pires do Nascimento; Diego Leite de Sousa; Filippo Zenon Bertola Oliveira; Francini da Souza Gabriel; Gabriel Aguiar Silva; Gabriel dos Santos Silva; Jheniffer Pereira dos Reis; Kaio Mendes da Silva; Maria Clara da Silva Fernandes; Maria Clara de Amorim França; Maria Luiza Gomes da Silva; Maria Vitória da Silva; Nicole Martins do Nascimento Santos; Peter Perez Cabral da Silva; Rafael Medeiros do Nascimento; Rebeca Ferreira de Oliveira; Sophia Rocha da Silva; Viviane dos Santos Barbosa; Yasmim de Oliveira Sergino.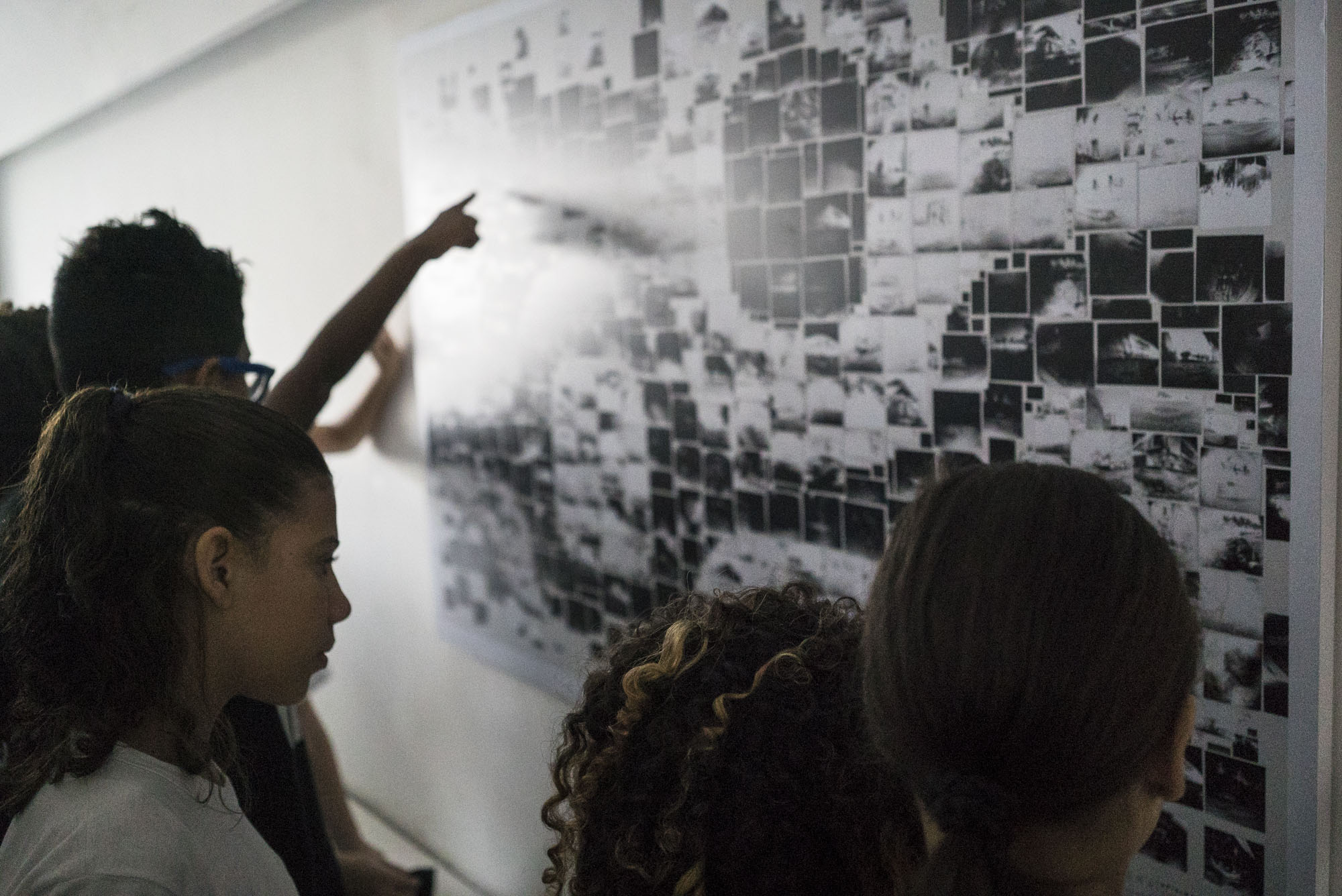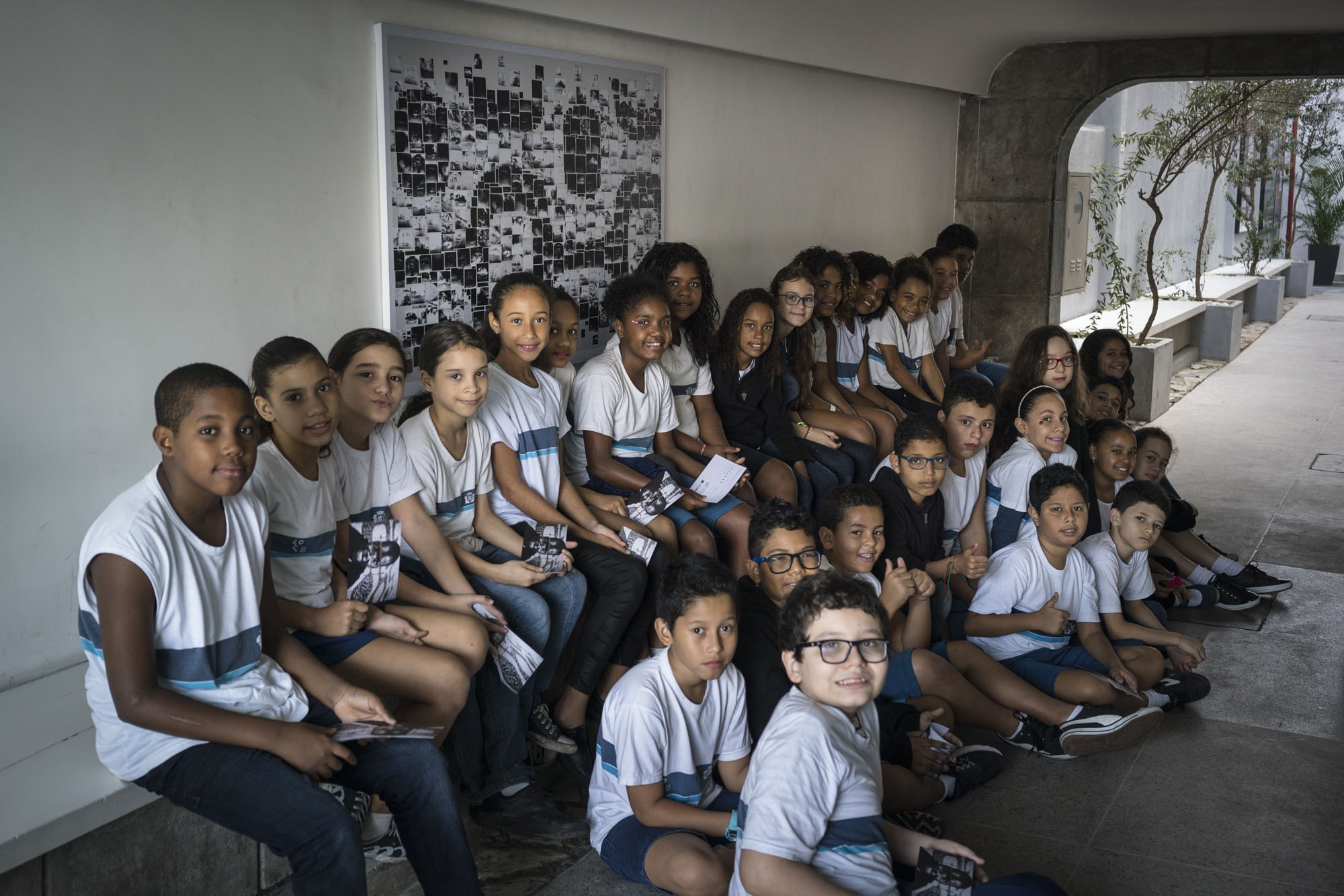 Alunos visitando o painel exposto na casa de cultura Laura Alvim, criado com as fotos que produziram na oficina.
Students visiting the panel exhibited in the Casa de Cultura Laura Alvim, created with the photos they produced.